The Supreme Court weakened your home & property rights! Is your home really yours anymore or is its future at the whim of some faceless government bureaucrat? How long before your property is taken? Here are the justices who voted against one of our country's founding principles: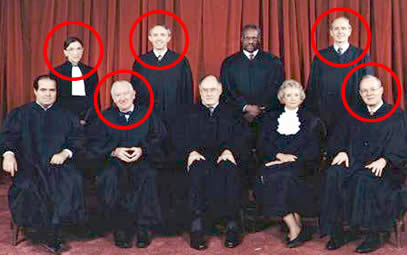 The United States Supreme Court Justices and Chief Justice:
Back Row (left to right): Ruth Bader Ginsburg, David Hackett Souter, Clarence Thomas, Stephen Breyer. Front Row (left to right): Antonin Scalia, John Paul Stevens, William Hubbs Rehnquist, Sandra Day O'Connor, Anthony M. Kennedy.
The case pitted the city of New London, Connecticut, against six families who were trying to keep the municipality from condemning their homes for use as part of a redevelopment project, centered around a $270 million global research facility built by the pharmaceutical giant Pfizer. Is there a connection between Pfizer and these 5 Justices?